Rhythm & Alps
29 – 31 December 2023
Cardrona Valley, Wānaka
Rhythm & Alps 2023, proud Thursday sponsors of the RDU Burnt Breakfast with Liam Donnelly.
Held across 3 days and 5 unique stages, Rhythm & Alps boasts the ultimate culmination of sounds, scenery and good vibes.
Rhythm & Alps have announced 16 incredible and diverse acts to perform at the 2023 festival in
December, with more to be revealed in the coming weeks.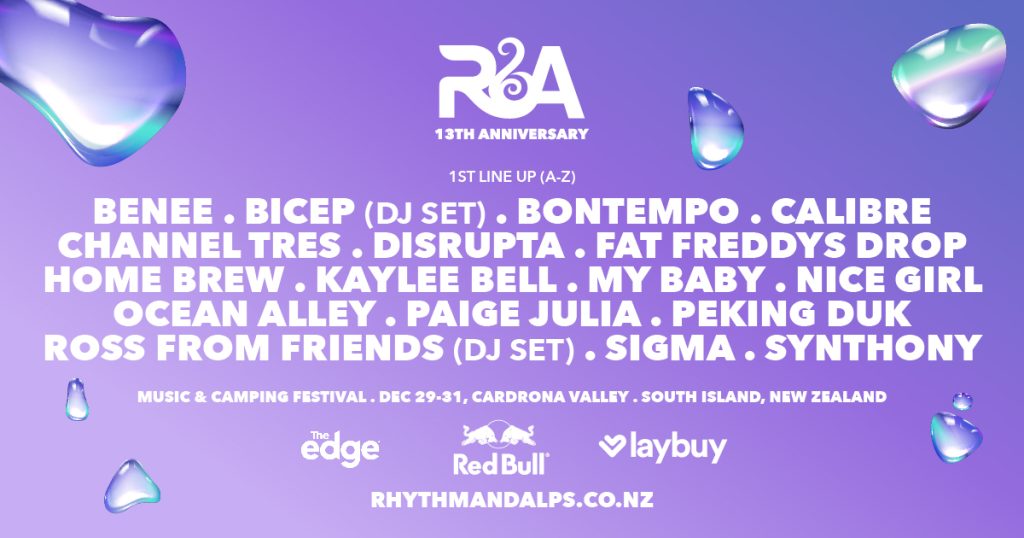 Event organiser Alex Turnbull states, "We are immensely proud of the carefully curated first
artist announce for the 2023 event. We have worked hard over the years to build an inclusive
event, with a little something for everybody – performers and festival goers alike – and 2023
promises to be another exciting and welcoming festival for all."
Rhythm & Alps celebrates its 13th anniversary amongst the golden hills of the beautiful
Cardrona Valley and is thrilled to welcome back popstar Stella Bennett, aka BENEE, for a
one-off Aotearoa summer show, as well as FAT FREDDY'S DROP and OCEAN ALLEY, who
make their South Island exclusive appearances.
In a breathtaking music event like none other SYNTHONY will ring in New Year's Eve in a truly
unique and immersive experience, complete with a magnificent orchestra and fireworks show.
Northern Ireland electronic music production and DJ duo BICEP make a festival return after
heavy demand from their southern fans. Delivering the sweet, sweet sound of a Kiwi summer,
the smooth and refreshing hip-hop crew HOME BREW return to Cardrona Valley after a lengthy
hiatus. And, providing anthems for the good times, Australian dance act PEKING DUK are flying
South for the summer.
Tipped to be some of the hottest festival acts for 2023, Rhythm & Alps presents your favourite
artists' favourite artist, leading-edge rapper and gifted hip-hop act out of Compton, CHANEL
TRES and Australasia's most streamed Country artist, the award-winning and multi-talented
KAYLEE BELL.
Drum & Bass lovers unite! Belfast Music producer and DJ, CALIBRE, Aotearoa's award-winning
force PAIGE JULIA, one of the scene's most exciting talents DISRUPTA and UK duo SIGMA
are scheduled to perform across the three days.
And, rounding out the first festival announcement is New Zealand's most noteworthy breakout
dance DJs, BONTEMPO, Melbourne-based producer NICE GIRL, U.K. house producer ROSS
FROM FRIENDS and roots-driven hypnotic dance trio MY BABY.
The mighty Wānaka festival Rhythm & Alps is immeasurably proud of its lucky 13-year-long
reign as the ultimate Te Wai o Pounamu New Year's party.
The three-day music and camping festival opens in the afternoon on December 29th, when
punters will stream in over the iconic Cardrona River. From when the gates open, until the last
act finishes in the wee hours of January 1st 2024, Rhythm & Alps will be filled with thousands of
good humans for the hottest Kiwi summer indulgence in music and celebration.
The three-day festival welcomes 10,000 partygoers and more than 6,000 campers. Just over 40
per cent of the people who attend come from outside the region, helping bring a significant
increase in regional spending and a palpable buzz to Wanaka and surrounding areas.
Rhythm & Alps has partnered with Laybuy making it easy for festival-goers to book tickets now,
pay in easy installments, and be dancing under the South Island stars this New Year's Eve.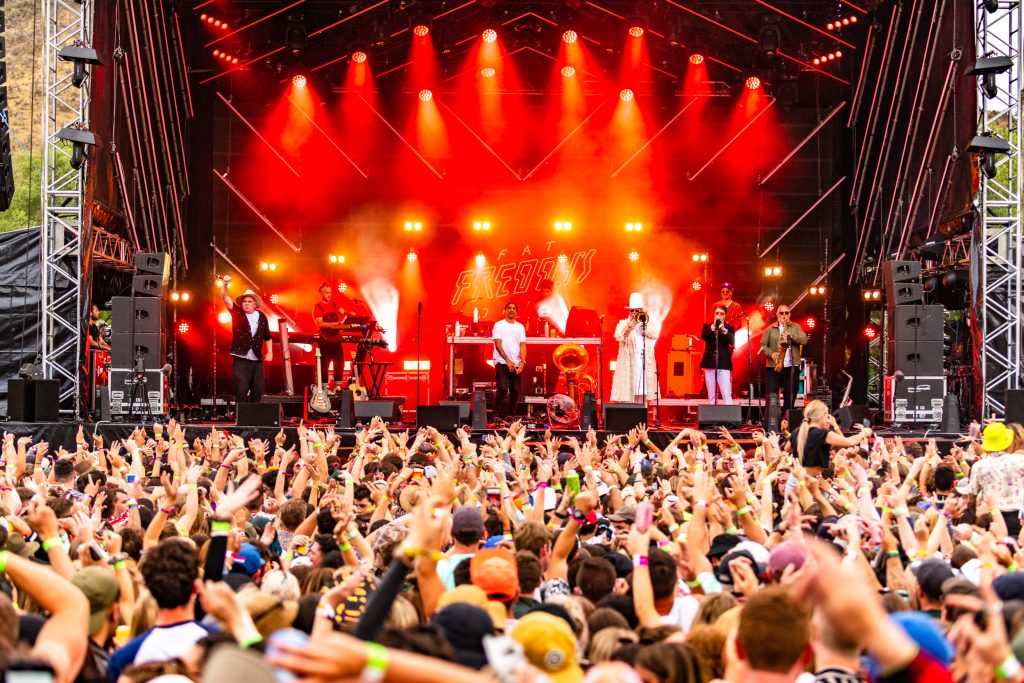 RHYTHM & ALPS 2023 FESTIVAL LINEUP IN ALPHABETICAL ORDER
BENEE | BICEP (DJ SET) | BONTEMPO | CALIBRE | CHANNEL TRES | DISRUPTA | FAT FREDDYS DROP | HOME BREW | KAYLEE BELL | MY BABY | NICE GIRL | OCEAN ALLEY | PAIGE JULIA | PECKING DUK | ROSS FROM FRIENDS (DJ SET) | SIGMA | SYNTHONY (NYE SPECTACLE)
Paybuy Presale 6pm July 25th
General Sale 6pm July 26th
Tickets and info available at rhythmandalps.co.nz
---
Reader's opinions
---